Return to:
bugler.org
Home Page
Top Stories


In Race For 5th AD Seat John Bugler Gets Nod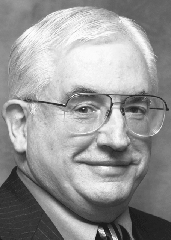 John Bugler
John Bugler is a very peculiar type of person, some may even say odd. We say refreshing. Bugler has a very strong belief in God. Before making a decision, he prays for guidance. Some people say this is strange. We think it is different, and it is, but he is totally believable. He's an honest man, and that is refreshing in the political world.
Bugler, a Republican, is running for the 5th Assembly District seat. He has an extremely impressive background, including years with the New York State Department of Transportation. He was an innovative project engineer, and has a long list of memberships with community and fraternal organizations. Bugler was a petty officer in the U.S. Navy, and served as an intelligence officer.
You may have seen Bugler's handy work on any one of New York's highways. The man who developed a process for the use of fast-drying cement in road repairs - it only takes three hours to harden - was an engineer by the name of John Bugler.
After years of investigation, he came up with the formula to quickly repair roads. He was entitled to a patent that would have made him a multi-millionaire. Instead, Bugler's strong belief in community caused him to give up self-wealth for the betterment of all the citizens of New York and the nation. For the development of this process Bugler was awarded New York State Engineer of the Year award and the Governor's Award for Highway Innovation.
Bugler is a strong proponent of a child's right to life. He wants expectant mothers to have a sonogram and listen to her child's heart beat and see the image of her unborn child before terminating her pregnancy. Bugler supports women working at home, earning money and furthering their careers while still being near their growing children, whenever possible.
Bugler is soft spoken and finds it hard to criticize any other human being. Even when addressing his opponent he is complimentary of her acts of community service.
He does, however, attack the system. He is frustrated that NYS government is not functioning for the people it is supposed to serve. While he doesn't believe that he has the ability to single-handily change things, Bugler promises to bring his innovative way of thinking and doing things to Albany. Maybe this is what Albany needs most - someone who can come up with new and better ways of getting things done rather than going along to get along.
His opponent, Democrat Ginny Fields, has been in the Assembly for eight months and has rapidly become one of Sheldon Silver's soldiers. During her interview, she spoke more about her accomplishments as a Suffolk County Legislator than her experience in Albany.
Suffolk Life endorses John Bugler. He will be a refreshing change in Albany and have remarkable solutions to tough problems.
Vote for John Bugler November 2.



©Suffolk Life Newspapers 2004